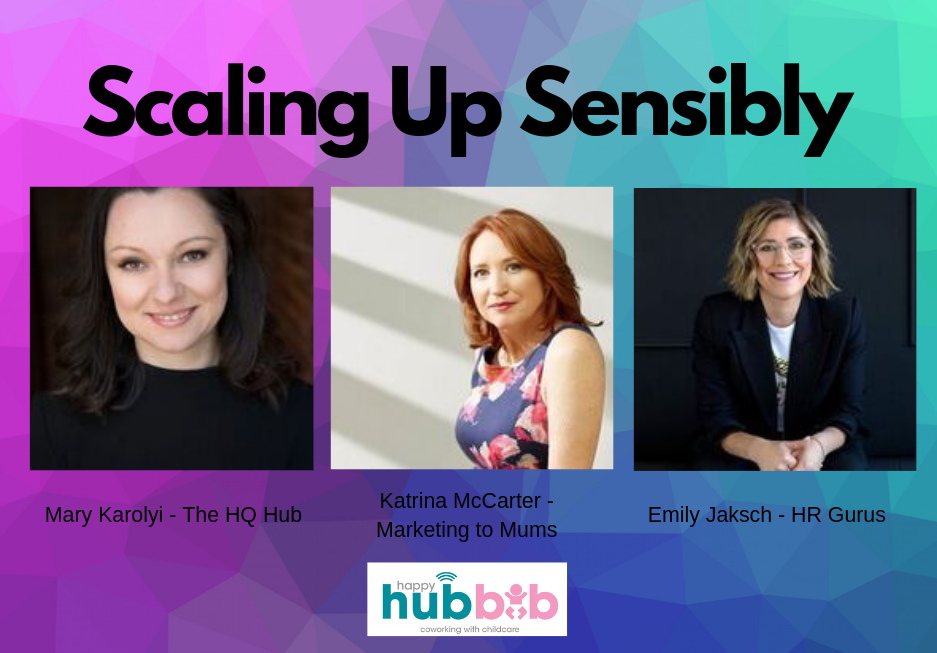 The six-week program, "Scaling Up Sensibly: Financial Mentoring for Female Founders", kicks off on Monday 1 July and was made possible by a grant from LaunchVic, plus in-kind contributions by Happy Hubbub and The HQ Hub.
Five female founders – of startups and businesses with 'scale-up' potential – have been selected to take part in the program, which involves weekly one-on-one financial mentoring with seasoned CFO Mary Karolyi of The HQ Hub. Complementing these business-specific sessions are small-group financial workshops, and masterclasses in HR and marketing by visiting experts Emily Jaksch of HR Gurus and Katrina McCarter of Marketing to Mums.
"We're really excited to run this program," says Erin Richards, Managing Director of Happy Hubbub. "It largely reflects my own entrepreneurial journey, and the areas I've needed guidance on in the crucial early years of running a business."
For Mary, the Expert in Residence for the duration of the program, Scaling Up Sensibly is a passion project.
"Young businesses need access to highly experienced CFOs and business professionals, yet they often can't afford them or don't realise they need them until they are well into their business journey," she says. "And as a working mum myself, I understand the logistical constraints many entrepreneurial mums are faced with; juggling multiple roles, with care responsibilities at home on top of the complexities of building and managing a business."
Both Erin and Mary want the program to become a permanent fixture at Happy Hubbub.
"As a coworking space and childcare facility in one, Hubbub's membership already skews female," says Erin. "With Scaling Up Sensibly, we can give participants not just the physical space in which to work, but access to CFO expertise and valuable connections to the wider business community."
Mary agrees: "We're looking to run the program well beyond this first round. Scaling Up Sensibly is an opportunity for business founders to take a breath; take a step back and survey what they've achieved so far, and then map the way forward to maximise the potential of their business. It's exciting, and I'm thrilled to be part of it."
Tickets
A limited number of tickets are available for the Scaling Up Sensibly workshops and masterclasses, held at Happy Hubbub, 239a Murray Rd, Preston, in July and August.
Hubbub's inaugural Celebrating Female Founders lunch, a 3-course dining experience with drinks, motivational speakers and networking, will be at CH James Cafe function room (Station St, Fairfield) on 24 July. Women in business, and their supporters, are warmly invited to attend.
Tickets: https://happyhubbub.weteachme.com/.
All media enquiries: Erin Richards, Managing Director, Happy Hubbub, 0411874046, erin@happyhubbub.com.au